Youthful Adventures. 
For Prati and Sylvie, their journey in the city began in their 20s, drawn by the promise of adventure and opportunities. London provided the perfect backdrop for their personal and professional growth, offering diverse experiences and rich cultural diversity. Prati set up a travel agency and Sylvie worked at the BBC. "I felt that I had come back home when I first arrived in London," shares Prati.  Sylvie felt the same, "I came as an au pair. It was a steep learning curve. It was tough but like Prati, everything felt familiar. I always felt home here."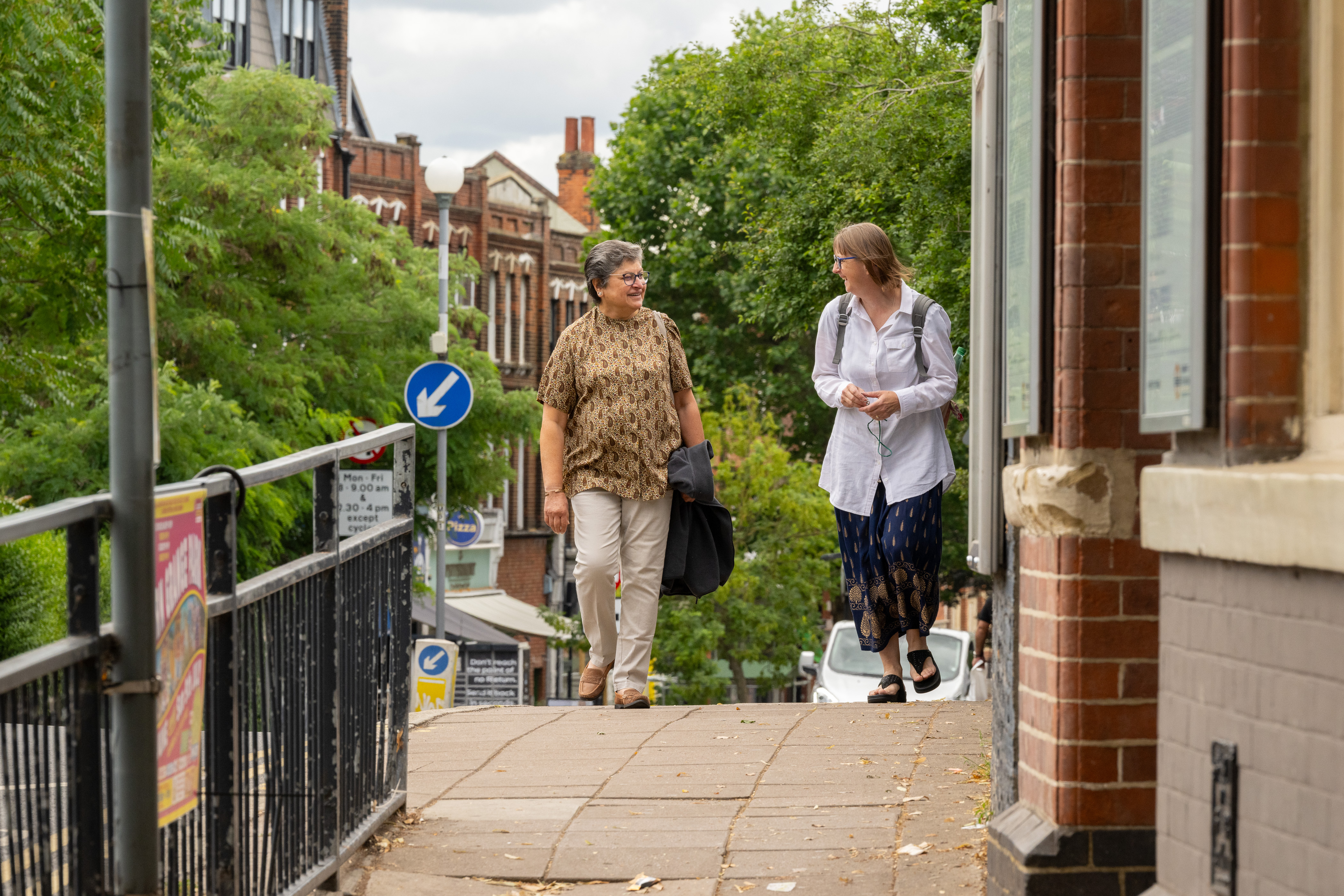 Navigating the Pros and Cons of City Living. 
After 40-years of living in London, Prati and Sylvie have experienced all sides of city living firsthand. On the one hand, the convenience of local shops and the rich transport networks offer a huge win. 
"If you don't have a car like me then the transport is incredible. You can walk anywhere and if you can't there is so much choice — buses, underground, overground, Uber."
Sylvie goes on to say that they often talk about moving somewhere less built up — they both long for a greener environment and to see more birds —but they know from friends that it isn't easy, living in the countryside. "You used to have the corner shop but now they don't exist and you need a car everywhere" and what asks Sylvie, "happens when you can't drive?"  
And everything medical is just round the corner, this is important to Prati who has many health challenges to deal with. Staying in London ensures they have good access to medical care.  
Prati shares her desire for a less crowded environment as they have grown older. Over the years where they live has become more developed — single buildings constantly knocked down to make flats — and their local neighbourhood has becomes increasingly built up. They talk about how so many more people are now living in the same amount of space, more people are living closer to each other, resulting in more noise. Since retiring and spending more time at home, Prati and Sylvie have noticed the noise more. Their neighbours are situated within a few metres, "We have neighbours who on an evening if they are sitting outside, we can hear everything they say. Our living room is literally two meters away from the garden next door", says Prati. She laughs and tells me she is desperate to play her music loudly, but that Sylvie is always reminding her about the neighbours.  
"We have neighbours who on an evening if they are sitting outside, we can hear everything they say."
Building Supportive Communities. 
Prati and Sylvie are both long practicing Buddhists, members of the SGI organisation and share how their Buddhist community has and continues to play a crucial role in shaping their experiences in London. "If we didn't have our Buddhist community our experience of London would be so different," says Sylvie. Having each other and their Buddhist community offers them security and connection with many people. They know how lucky they are and the reason why they spend a lot of time with people who are alone. "We know that if everything is on your own shoulder it can be overwhelming."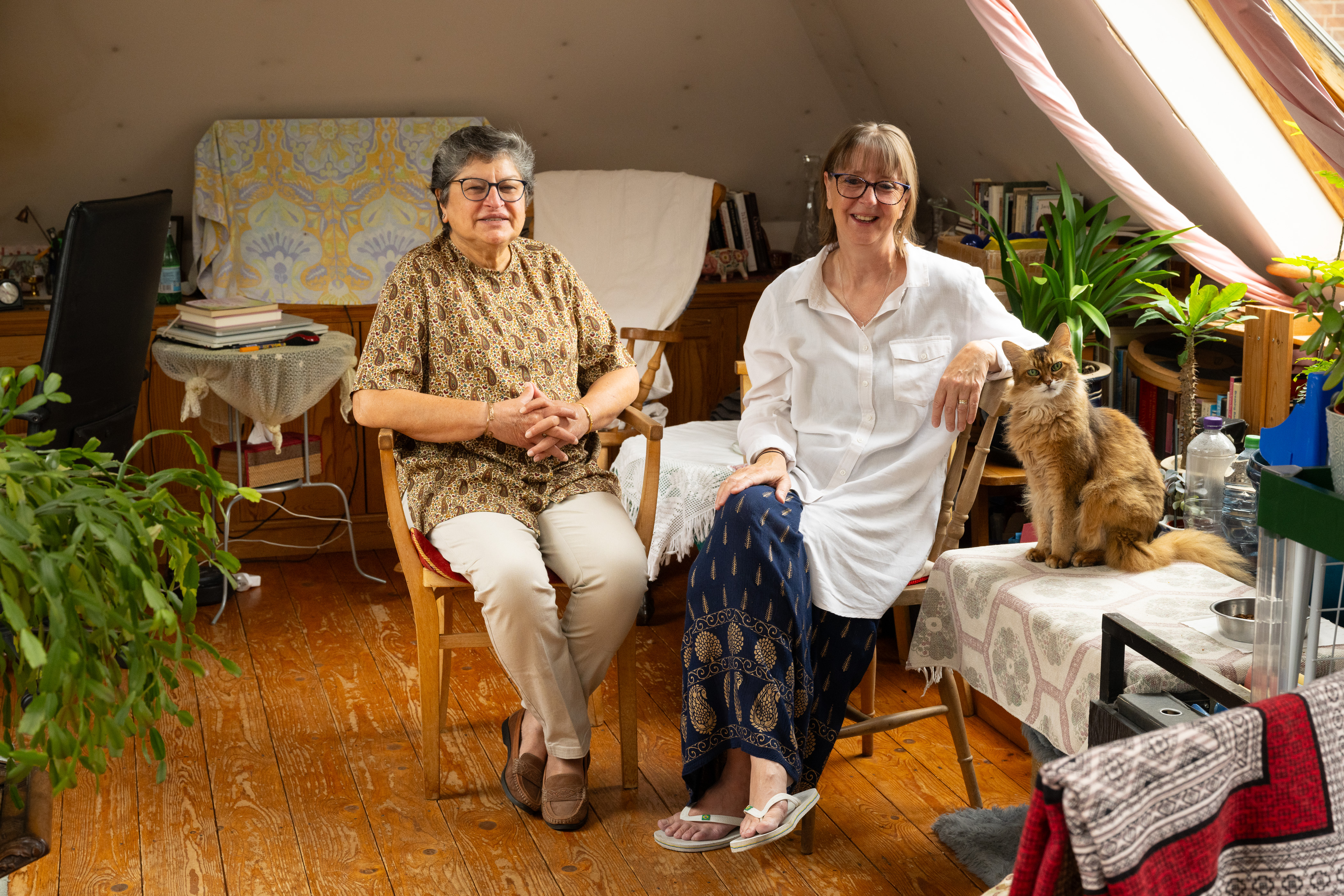 They recognise the importance of integrating into local communities, to combat the potential isolation that can arise from city living but are both really concerned about the increasingly digitalising of everything. Sylvie says sadly, "What worries me is the lack of human beings for day to day activities. You can't go to the bank and see a person. You can't buy a ticket from a person if you go to the overground. Everything is becoming computer related and this is frightening. Even going to the supermarket, you see fewer and fewer tills." 
The Challenges of Ageing in the City. 
Having supported many of their friends in later life, they are very aware of how tough it can be to deal with challenges if you have limited support systems in place in the city. They share firsthand how they have seen how this can get so much worse as we get older."When our friend Anita who lived by herself had a brain tumour we were there with her all the way. Without us it would have been impossible. People need advocates. The city at the moment isn't doing anything for older people." 
"When our friend Anita who lived by herself had a brain tumour we were there with her all the way. Without us it would have been impossible. People need advocates.
They talk passionately about the need for joined up support services, from healthcare to protection against fraud, as well as accessible housing options to offer homes to more people and to protect those who are vulnerable. When asked what needs to change, Sylvie doesn't miss a beat and says starkly, "Where do we start? There is nothing in place for older people." They talk about the ideas of a census of older people. "Let's find out where are they? Who are they? How are they living? Are they able to access services? What are they struggling with?"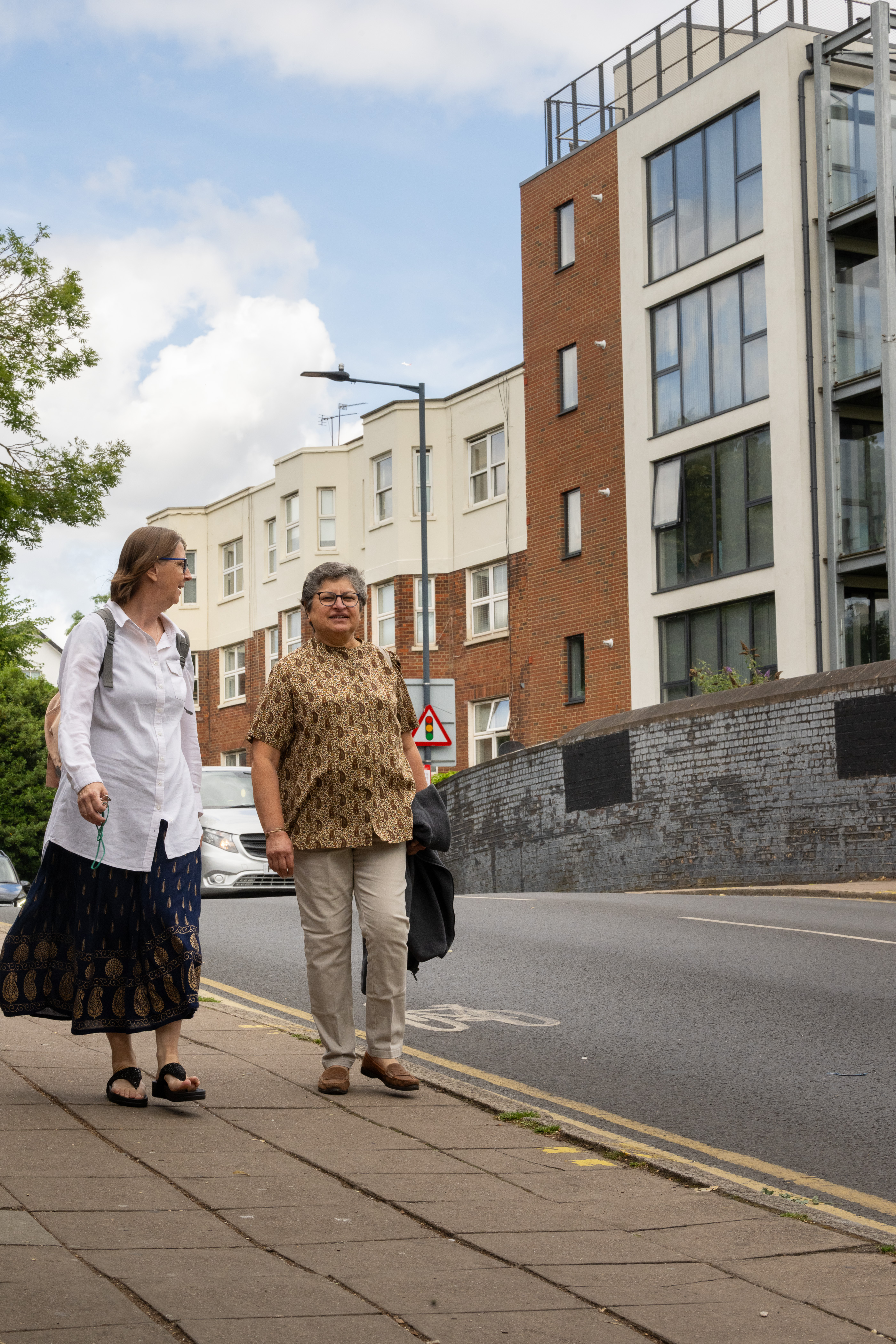 The Illusion of Youth and the Power of Spirituality. 
It is through their Buddhist practice they say that they have found a source of renewal and vitality. Chanting Nam Myoho Renge Kyo gives them both a real energy and a sense of mission and sense of purpose. "We don't think of ourselves as older. Until something happens to you, you are under the illusion that it will never happen. My body and mind are still ok. If I look in the mirror and I look at my body in a critical way, I can see ageing happening on my hands and my skin, but I feel young. I am spiritually, physically and mentally ok. Not perfect but ok." 
It is inspirational to hear them talk and you can feel their energy to face the challenges of ageing with a positive mindset, reminding us all that our perception of age is not solely dictated by external factors. 
"My Buddhist practice is the elixir of youth. Every morning I wake up with absolutely zero energy, my battery has become empty over night, but an hour of chanting, I tell you I am a different person. It is so powerful. It keeps me young and resourceful."
Embracing an Uncertain Future. 
Prati and Sylvie recognise that their future in the city is not set in stone. As they navigate the complexities of getting older in London, they remain open to the possibility of relocating to better-suited accommodation or even traveling to care for loved ones. Sylvie's father needs a lot of help after suffering from a brain injury and her 82-mother in law is starting to feel the burden. The uncertainty of old age is a reality they confront with courage and resilience, embracing the need for adaptability as life unfolds. Their unflinching optimism is best summed up by Prati talking about the future. "As it is I am finding it exceedingly difficult and painful with my arthritis and bad knee going up and down the stairs. But we must still try to do what we can. I am only 68. It is only going to get harder. However, we must never be defeated, and we must keep on making an effort, to keep on trying." 
— 
More info. 
You can find out more information about NICA's City of Longevity programme here. 
If you would like to join our Voice® community and help develop our City of Longevity programme you can find out more here. Voice® is a growing global community of extraordinary ordinary people who are our co innovation partners and a key partner in our City of Longevity innovations. 
You can find out more about the Buddhist organisation, SGI, here.