Lyn Slater PhD is a cultural influencer, writer, and former professor. She started the fashion blog, Accidental Icon in September of 2014 and has since garnered a loyal fan base of almost a million followers across platforms. 
How To Be Old, Lyn's autobiography, which will be published in 2024, tells the ten-year story of Lyn's sixties, the sometimes glamorous sometimes turbulent decade of Accidental Icon, and goes beyond personal acceptance of ageing or posting a photo on Instagram. This memoir is about the hopeful and future oriented process of reinvention. Rather than trying to meet standards of youth and beauty as a measure of successful aging Lyn promotes a different standard to judge our older selves by: when we are successful and imaginative in achieving our goals in the face of the challenges and losses that getting older brings. Even with its unique challenges, being old is just like any new beginning in your life and can be the best and most invigorating of any of life's phases, full of rebellion and reinvention, connection and creativity.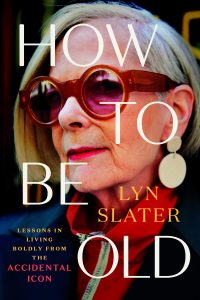 You can pre order Lyn's book here.